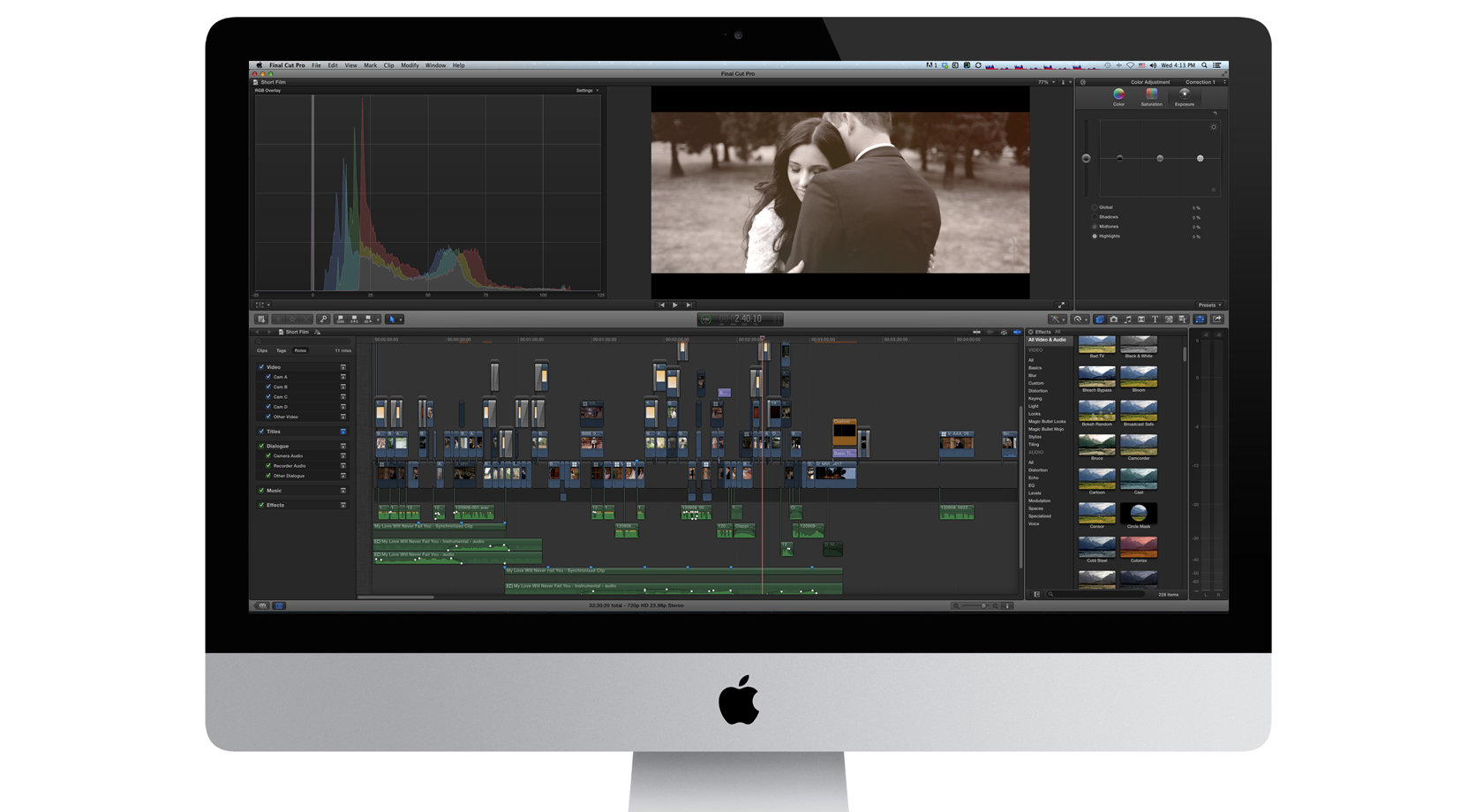 15 Apr

From FCP 7 to Premier CS6 and finally to FCP X!

I wanted to answer questions that I have received from many of my videographer friends and peers in the wedding cinematography industry. Is Final Cut Pro X ready for Wedding Videographers? Is FCP X a good NLE for Wedding Videos? FCPX vs Adobe Premiere (CC and CS6) and so on.

Our company has made the move in June 2012 from Final Cut 7 to Adobe Premier CS6 in hopes that it will speed up our editing processes, allowing us to spend more time creating stories and of course being satisfied editing in the new NLE. We chose Adobe Premier CS6 over FCP X as we knew it was not ready for prime time (FCP X was in 10.o.3 at that time I believe).

Editing a few weddings on Premier CS6, we realized that it was too small of a step from Final Cut Pro 7 to really consider it a smart move from FCP 7. Yes, it was a better program, but the jump really wasn't that revolutionary. The question I always asked myself: Is it worth to change a whole editing workflow simply for a few new features? We spent a few days converting to Premier and learning the program (which was not too hard to learn at all). But editing with Premier CS6, we were wishing we were still editing on FCP 7. Honestly, we didn't fall in love editing in Adobe Premier CS6. To answer my initial question, I didn't think it was worth switching.

Slowly, I started peeking at Apple's Final Cut Pro X and started to like where the application was going. It was version 10.0.6 and I realized that it was ready for prime time. I saw that this application was truly revolutionary and that it had a vision for the future. I see most NLEs heading this direction one day, and FCP X has a head start.

So I brought up the idea of switching to my team. To my surprise, everyone was down for it. I honestly wanted them to turn the idea down, as I was really afraid of the magnetic timeline, but they all persuaded me. Sometimes fully rethinking a workflow from ground up allows you to create a new revolutionary workflow that is a lot more efficient and productive than the "legacy" workflow that we have been used to working with for so long. This is exactly the process that has been happening at our studio. Our editing workflow has changed after switching to FCP X and we have adapted to new ways of doing things. So far, it has greatly impacted us in a positive direction. Our films are turning out more polished, we are finishing edits a lot faster, and we love the NLE that we are editing in.

However, FCP X is not a perfect application. There are some really great revolutionary features in it, but there are also some limitations and down falls. One thing to keep in mind though, FCP X is a real NLE and is truly competition to other NLEs.

I am a wedding filmmaker and I created a list of features I love about FCP X and things that I'd love to see changed in FCP X. Again, this is from the perspective of a humble wedding cinematographer. I hope that this list of strengths and weaknesses of FCPX helps YOU figure out what you want to do.

This list is not in any specific order. I spent a few days editing and adding to the list before publishing it.

What I love about Final Cut Pro X:
It's fast. It uses a lot more of your available resources, So I know my 32GB of RAM are fully in use (it is a 64bit application).
It's cheap. $300 is a very great price for a professional editing application.
Install it on all of your computers, legally. The App Store license allows you to install FCP X on all of your computers. We are able to save a lot of money here. This is actually a very big thing for bigger companies.
It saves on the fly. Similar to Adobe Lightroom as it uses a database system. I have never lost anything in FCP X – even when it crashes.
I don't have to round-trip to other programs as much. This saves me a lot of time. Prior to FCP X, if I had some noise in my audio, I had to clean it up in Adobe Audition or Soundtrack Pro. With FCP X, I don't have to add that extra process. I can take care of many things that required "round-tripping" before straight in FCP X.
Working with audio enhancements is pleasant and easy. Many tasks are built right into FCP X without needing effects like noise removal and EQ. Plus it's pretty straight forward, not requiring you to tweak too much with the settings and trying to figure something out.
Audio waveforms are accurate at all times. I love how the waveforms are adjusted on the go when you increase keyframes, add fade handles, or add an audio effect. Amazing. It allows me to be so much more accurate with the "loudness" of my whole project.
Subframe audio editing. That means that audio can be moved 1/10 of a frame to the left if you wish. Totally works when audio is mis-aligned by milliseconds. I can zoom in very closely and align the audio exactly. A lot of times I want to mix mics, and it's hard to align them exactly when you're using "frame based" audio editing.
Color Corrector is really good! So far, FCP X's color correcting is my favorite built in color corrector tool. No other NLE comes close. Maybe it's just a preference.
Auto color works. Most of the time. BUT… it needs some improvements.
Organization of the events is simply amazing. Keywords are awesome. BUT… it needs some improvements.
Background rendering is awesome. I set my background rendering to start after zero seconds. Every second that i'm not editing, FCP X is rendering in the background. I love it! BUT… it still needs some improvements.
Chapter Markers. I know other NLE's have it, But I absolutely love the way chapter markers are done in FCP X and that I can customize the poster frame.
To-Do markers. This is a feature I did not know I wanted until I saw it.  It's "red" when the task still needs to be done, and can be marked off as "completed" and it will turn the marker "green." Honestly, a very genius feature that makes collaboration between editors so much better.
Synchronize Clips by audio. An amazing feature, as it speeds up my syncing workflow that requires PluralEyes on everything. I usually spend some time meta-tagging camera angles and I end up getting a better sync. Usually, a couple video clips and 1 audio will do a perfect sync. BUT… it needs some improvements.
Export chapters with your Quicktime Movie. If you gave your chapters a name, you will have a quicktime video that will have chapters embedded into it with the poster frames that you set.  Chapters make our films look so much more professional and brings us a lot closer to a better digital delivery format. We also don't have to do much more work, we still create chapter points to use with Adobe Encore.
iTunes Integration. We have created a library that is shared among our editors via a cloud service called Cubby (or DropBox). We organize the library very accurately using playlists and ratings so all of our editors are on the same page with music. FCP X will read my iTunes library and it's playlist, saving me a few trips to find music.
Custom Generators, Transitions and Effects. Did you know you can make your own effects using Motion? It's a very cool feature. I have created a bunch of generators for FCP X in Motion that allow me to insert our company logos as animations and certain custom effects that I use. Instead of searching my harddrive for our logo, I jut drag it our from the generator. And not to forget, it also doesn't clutter your event browser with logos and graphics. Your event browser can stay as the event browser. 
Final Cut Pro X can handle MP3 and AAC files. There's no need to transcode audio files to .aiff or .wav before using them – just drag and drop them to the timeline. Before, we had to convert every mp3 in soundtrack before using them in our timeline.
Angle Editor in multi-cam is pretty awesome. It allows me to edit the angles in the multi-cam clip, adjusting cameras if they didn't align correctly. Adding another angle is also pretty awesome.
Optical Flow retiming. This feature will make your edit look stunning if you want to do some slow motion. Optical flow is a technology that adds frames to your footage when retiming.  This allows your clip to appear super slow motion. It's not 100% perfect in complex scenes (especially when a photography flash goes off), but overall it's great. View the video below to see before and after.
Clip skimming surprisingly performs well in Event Browser. I thought it would be terrible, but it actually works well and is easy to work with.
Exporting and Sharing is amazing. You can export to your YouTube and/or Vimeo (and other) accounts in the background  No need to export first, convert and then upload. Really REALLY simplifies the workflow.
Export as a bundle. Another amazing feature of the new Export. I can create a "bundle" of things I need from a project. For example, lets say you need all these formats of your project: Mpeg-2 for DVD, h.264 for Blu-ray, ProResLT file for Master File, a small h.264 for iPhone, and you want to upload it to your YouTube account. Simply create a bundle, and BAM! All those formats are exporting in the background and uploading to your YouTube account. Go spend some quality time with your wife and kids.
Export your video with multiple audio channels. For example: a stereo track with only voiceovers, and a stereo track with only the soundtracks. Playing the video in Quicktime player – you will see no difference. However, importing the video into a NLE, you will see that you have 2 separate stereo tracks. This allows you to future-proof your projects. Just in case you want to take your film and cut a Trailer for it, not having the music track will save you a ton of time.
I love how many third party effects and transitions are available for FCP X. There is an abundance. And they are all pretty cheap too.
Photoshop files can be imported with layers. I love that. It's kind of like a miniature version of After Effects. I actually used this feature twice already and it saved me a few trips to After Effects. Again, my workflow is faster.
Auto Backups. I know that Premiere has this, however, I like the implementation of Final Cut's a bit better. Additionally, I love that FPCX backup into one folder that can also be synced into the cloud.
What Apple should improve based on my experience:
Faster way to solo clips. I don't want to spend even more time meta key-wording clips and adding roles to clips just so I can solo things faster while editing. So far my experience is very slow when I want to solo items (has been fixed in an updated version of FCPX).
Remove Attributes. I love FCP X's "paste attributes" feature, it's amazing. However, many times I have applied an effect on a bunch of clips and then later, I realize I don't want it anymore. Currently, I have to go on every clip and remove the effect one by one. If the "remove attributes" can work the same way as the "paste attributes" (but removing the selected attributes), that would really help us speed up our editing by a lot (has been fixed in an updated version of FCPX).
Opacity handles and keyframe control right on a video clip. This control should be available right on the timeline instead of having to open the "video animation" controls. Audio does a pretty good job right now.
S-curve opacity handels. Allow us to make easier adjustments to video keyframes. Not in some default way that we don't have control.
More Keyframe control. Some effects and/or effect settings have sliders with parameters. The Keyframe editor does not take that into account and does not allow me to keyframe using the video animation editor. Yes, I can move the keyframe left and right, but not up and down, controlling the value of effect parameters or settings. Similar to how opacity handles work in FCP 7.
Change project settings. I've accidentally started working with some audio once and then added clips. Later I realized I was working in the wrong resolution and frame rate. There is no way of changing that right now. A simple Project Inspector window with a way to change settings to a project would solve this issue.  Fixed in FCPX 10.1
Add audio only cross fades. This one is simple. Sometimes we want a transition on just audio. I don't always want to use the tiny audio handles.
Disable Audio of a clip without disabling the video. I know I have to detach audio first or bring the audio level down all the way, but I want a simple key command. Another way of doing it is to bring the clip into the timeline "audioless," however, many times I keep the audio in the clip just in case I need to bring it back up when I decide I want it. I've noticed that I have forgotten to bring down the audio level of clips many times, realizing only after I have exported the project.
Make background rendering a bit more background. I love how FCP X automatically starts rendering after 5 seconds of inactivity. But I have a powerful computer. Why not continue rendering even when I continue working. Maybe utilize less power when I'm editing and using FCP X but kick into high gear rendering when I have "X" amount of seconds of inactivity. This is make FCP X an even faster NLE.
Color labels for video clips, audio clips, etc. I love how Adobe Premier handles this. It organizes my timeline so much when I have certain parts of my edit "color coded." It also allows me to find things quicker in the timeline (has been partially fixed in an updated version of FCPX).
Allow attaching clips to the secondary story line. Many times, we have stories within stories. This is where I'd really benefit from this feature.
Allow to break apart Multi-Cam clips. I need to break apart or consolidate multi-cam clips where what ever camera I have it on become the actual clip instead of the multi-cam clip. This will allow me to have more control of the clip. For example stabilize it if I want to or do more advanced stuff that a multicam clip does not allow me to.
Search in Event Browser should be expanded to include keyword searching as well. I was very disappointed when I found out that all the key-wording I did would not come up in search. One way around this is favoriting the video and naming the favorite my keyword. However, I'd prefer keywords to stay keywords and favorites to actually be my favorites.
Used Media Indicator. I would love to see what media is already used in my current project. This feature would be used everyday by me. Many times, I use a lot of shots in a short sequence that I'm working on, and then I need one more shot. In the event browser, I spend a lot of time looking for one that hasn't been used yet. Adding this feature would save me a lot of time and allow me to speed up my editing workflow even more. Updated in FCPX 10.1 to something better than I expected.
Allow regular Markers to have a duration. Premier CS6 has markers down. I love the way Premier does it. I use markers to plan my timeline. For example, "here" (with a duration of 30 seconds), I want to put in "First Look." Then on the timeline, I can visually see (as the title of the marker is seen in the timeline) my plan for the project.
Allow window customization. We have a couple options in FCP X with windows. Especially when I start working with Dual Displays. I want to be able to move come windows around, maybe have more than just the event browser on the second display. (has been partially fixed in an updated version of FCPX) 
Allow adding a transition to a connected clip without forcing it into a secondary storyline. I don't always want something to be a secondary story line. It adds more "mess" to my timeline and makes some tasks harder to do. Like selecting a bunch of clips and copying them. Also I have to make sure I have selected the secondary storyline rather than the clip itself if I want to copy the transition as well. Or else, I will have only the clip pasted. Oh, and not to mention shorter than anticipated because it cuts off the transition awkwardly. It becomes hard to edit with the secondary story lines when they were initially not wanted.
Improve audio syncing by a lot. Simple syncing between 2 cameras and a dual system audio track with 1 shot per camera, the FCP X "syncronize clips" command will do a perfect job. But I was not able to pull off perfect syncs with anymore than that. I still trust Plural Eyes 3 for the more perfect syncs.
Save effect/transition presets. I personally use the effect/transition preset bin in other NLEs. It's an intuitive way to save time with effects that are already tweaked. For example, I have a Multiband/Compressor effect that I created presets for "Low Compression," "Medium Compression " and "High Compression." Having these as presets, it's as easy as knowing that I want "low compression" audio effect for a certain clip and dragging that preset onto that clip and I saved 30 seconds tweaking a new audio effect. (has been fixed in an updated version of FCPX) 
Project Versioning. It's kind of like autosaves, but I'm sure Apple can come up with a better way of doing that. Sometimes, we make a mistake during editing and want to go back a few hours (but already have shut down FCP X and the undo history is gone). Fixed in FCPX 10.1 with backups and project snapshots.
iTunes music playback should include track progress bar. When looking for music using the iTunes integration  I find it hard to quickly listen to songs. Each song starts from the beggining  As a wedding film maker, I sometimes want to quickly jump to the middle of a song to see how the song progressed and does it still work with my edit. It's impossible to do that right now. This limitation requires me to open up iTunes when searching for music inspiration. It works well when I know the track by heart.
Join through edits and show indicators of a through edit. I love how multi-cam through edits work. When I make an accidental cut in a clip, I can select the cut and press delete. The multi-cam clips are back together as if nothing happened. However, regular clips don't work that way. I would love to see it implemented the same way that multi-cam through edits are. Fixed in FCPX 10.1 but with the clips having to be in a timeline (primary or secondary).
Allow for custom rate in speed retiming. Can I simply enter 40% somewhere? Sometimes I want an exact percent and not the predefined 2x, 4x, and 8x. Fixed in FCPX 10.1
Allow key-framing and ramping in speed retiming. I'd like to be able to have my own ramp during retiming. The default ramp is ok, but not perfect when I want full control at clip speed changes. Fixed in FCPX 10.1 Easier than in any other app.
Allow Auto Balance color corrector to be editable. I would think that once FCP X does "auto color," it would actually apply that correction to the color corrector thus giving you a solid base to work off of. However, it doesn't. You're color board is blank.
Allow Match Color to be editable. Same as above. Sometimes, the match is close but off. I want to be able to tweak it.
What some people may find controversial:
FCP X crashes. I have never lost anything. Another great thing, the application crashes really fast and restarts quickly. You're back up and running within 30 seconds. I have had horrible experience with Adobe Premier CS6 when it crashes. It takes forever to "crash" and when it does, I still have to force quit it and then I'm not even 100% sure my project is restored. FCP X crashing process is safer and faster (in my experience). With the 10.1 update, I'm experiencing a lot less crashing. The software feels a lot smoother too. UPDATE Oct 23, 2017: After FCPX 10.3.4 update, I rarely find FCPX crashing. However, I have found FCPX crashing with relinking, but have found a work around in a blog post about "Final Cut Pro C 10.3.4 Crashing on Relink – FIX."
You have to change certain habits. It drives me nuts sometimes, but that also forces me to learn a new technique. The "legacy" timeline will be the biggest habit you will have to break. However, there is a powerful tool "the P tool" that will help you a bit. Also, the "~" key will help you pretend you have some legacy timeline movements.
There is a learning curve. If you have edited before on another NLE, FCP X will be a difficult transition. I say that because mentally, we want to do things the "old way." FCP X is not the old way anymore. For those who are just beginning, it's a pretty straight forward application and easy to use. You're in luck that you didn't have experience with a legacy editing application.
Many of the awesome features in FCP X are really awesome in my opinion. Many of the downfalls are actually just me wanting something specific from an editing application. Some may think that my "downfalls list of FXP X" is longer than the "greatnesses of FCP X." (take a look at the crossed out sections though – there is a lot crossed out by 2017) Yes, I agree, but that is because most people comment on negative things a lot, and forget the aspects that work flawlessly. I think same goes with me. Many features in FCP X are flawless and perfect, but I do not notice them because they do the job exactly how I want them to.
Why I'm leaving Adobe Premier CS6 and moving on to Final Cut Pro X.
I like Premier in some areas, but overall I really don't like it. I have installed a legal version of Adobe CS6 (Creative Cloud) on a fully tweaked out late 2012 27″ iMac. Premier just does not work that well on a monster machine.
First of all, it's a buggy program. It crashes like crazy. In a day, it would crash between 5 to 15 times. Some times it auto recovers the project (which I love), but many times, it doesn't. The recovery process takes long. The Application shuts down very long after a crash. It's stays "not responding" for a really long time forcing me to quit it.
Second of all, I don't see the speed difference between FCP 7 and Premier CS6 with a GPU accelerated card. On paper it's faster, but in real life, it's buggy and slow. You end up doing your project slower than even in FCP 7. Yes, it reads DSLR footage without having to convert the footage first, but so can FCP X.
Lastly, my edits with Premier CS6 are not better. All the features in Premier CS6 are regular features. Dull and boring – but they work exactly how they did for a really long time. Nothing revolutionary. FCP X, on the other hand, actually has features that make your audio/video quality a level up and and takes you to a new revolutionary and faster workflow. I mean it. Faster workflow.
Hands down, I would choose FCP X with just these three reasons listed on the Premier CS6's "downfalls list."
Conclusion
With that said, FCP X's "downfall list" may be long, but my edits are done fast and they are better quality edits. In premier CS6, my edits are not better (they are the same) and the edit is finished at exactly same speed as it was in FCP 7 (if not slower because of all the bugs). (FCPX 10.1 fixed a few issues with it's release.)
For me, it matters at the very end. Was I satisfied? I was satisfied with FCP 7. And now, I'm in love with Final Cut Pro X!
Deep in my heart, I see a bigger revolutionary future for Final Cut Pro X than Premier CS6.
This is why I chose Final Cut Pro X over Adobe Premier CS6 for my wedding videography work.
(Leave you comments below – I'm sure we will have an interesting debate.)
---
UPDATE 10/23/2017: I still am using FCPX 10.3.4 and loving it. I recently tried Adobe Premiere cc 2018 and excited for some of it's features. However, I will be sticking to FCPX for weddings. Also excited for the iMac Pro and a promised FCPX update soon.