04 Sep

Cathedral of the Blessed Sacrament Wedding – Sacramento, CA – Same Day Edit

Weddings are always very beautiful but something about a wedding in a cathedral makes the ceremony even more breathtaking. I remember driving past the Cathedral of the Blessed Sacrament in the heart of California and thinking how cool it would be to film a wedding there one day. So when Benny & Joanna reached out to us about getting married in the grandest cathedral in Sacramento, I agreed in a heartbeat.

(Don't miss the update below with their romantic wedding film, grab a tissue.)

While chatting with the couple about their wedding details, it became very evident that Benny & Joanna are very madly in love. I found out that their love story started back in 2002 on Valentine's Day when they were just 14 years old! How sweet is that? For 15 years, they dated and spent precious moments together until on Joanna's 30th birthday, surrounded by both families, Benny finally popped the question! Of course Joanna said yes and they started planning a wedding.

The couple wanted to choose a cathedral because they wanted to exchange their vows before God in an elegant and timeless setting. Joanna knew that a cathedral would give the perfect romantic feel for their wedding ceremony with its' high ceilings and classic artwork. This challenged Benny, so he set out to find the greatest cathedral in Sacramento and when he found the Cathedral of the Blessed Sacrament, he knew their wedding guests would be just as awed with the magnificent building. When I entered the building on their wedding day, I was taken back by the grandness of it all and I knew I needed to capture that into our film. I was so excited to finally film in this incredible sanctuary and I got right to work, making sure to get the finest details of their big day.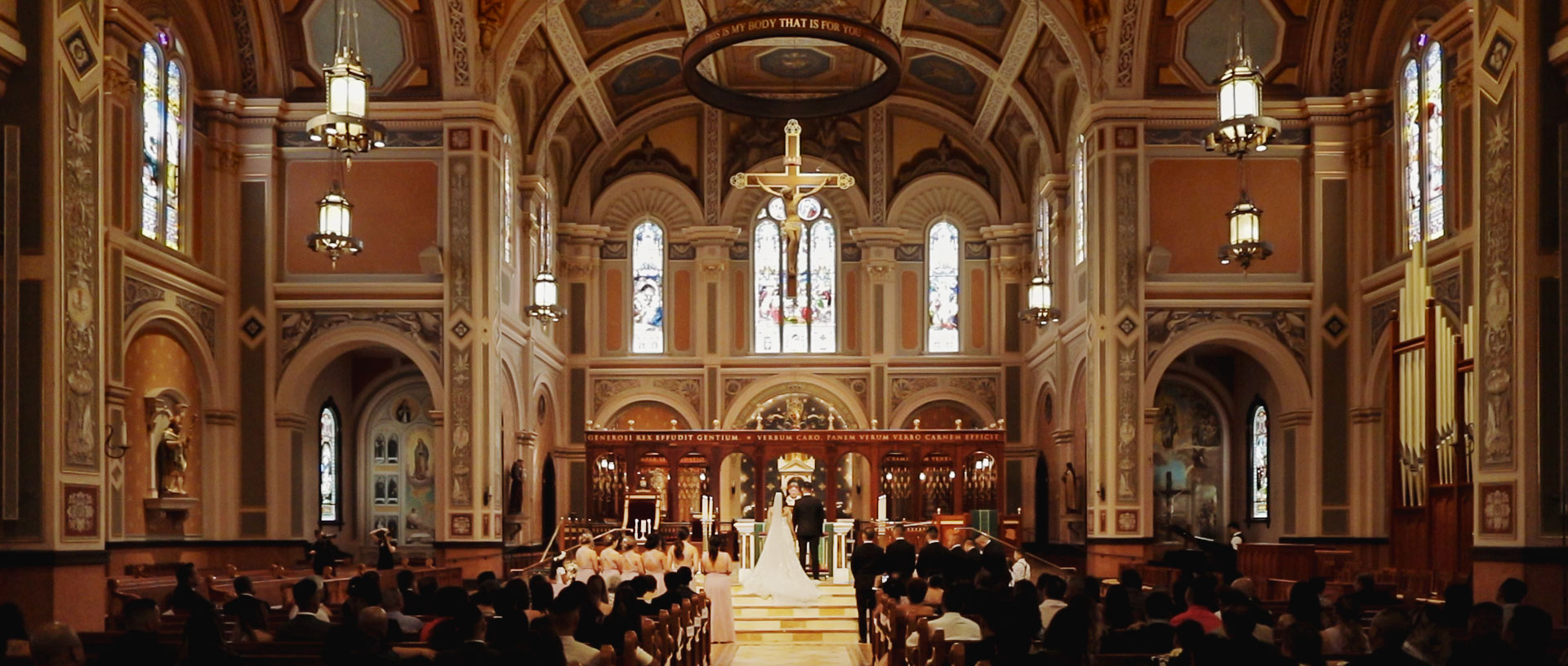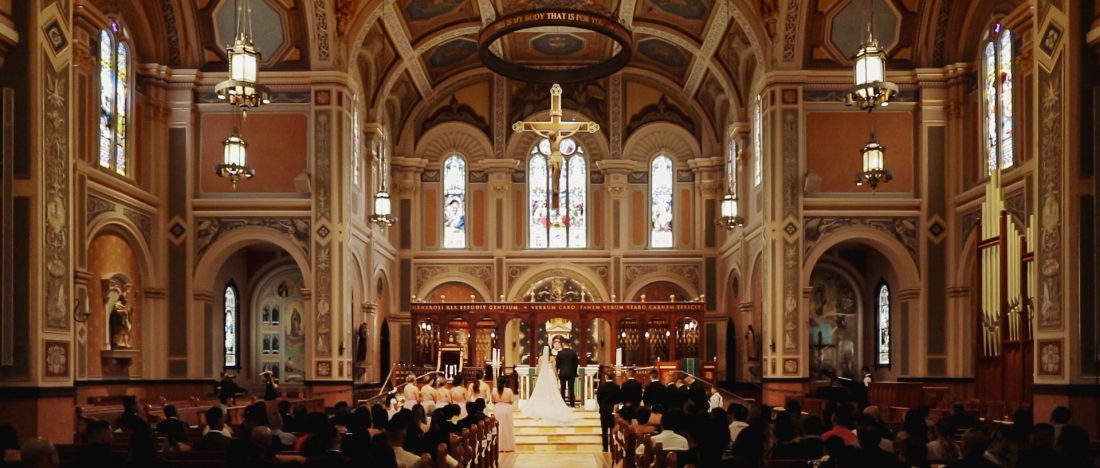 To be completely honest, I was also slightly nervous because there are certain challenges that may come up inside a classier building like a cathedral. Sometimes the lighting is dimmer than we'd like, the sound system is outdated, or even the priest may refuse to wear our mic. At this wedding, we were not allowed to connect to their audio system but we actually managed to obtain quite flawless audio from the wedding ceremony. Though the priest only gave me a few minutes to mic him before the wedding processions, he was kind enough to wear a mic for us, which really helped us out to capture that perfect ceremony audio (we have a post dedicated on how we capture audio at weddings).
Benny & Joanna requested a Same Day Edit and though we've filmed and edited many before, it's always a challenge to keep up with the overlap of events like filming and simultaneously editing with a bunch of steps in between. (Check out this blog for a detailed breakdown of our Same Day Edit process) This wedding was no different, as our goal was to include shots from the Grand Entrance, First Dance and even the Sunset Shoot that ran late into the evening. Again, though we've done this many times before, it is truly our greatest reward to watch the priceless and amazing reactions from the couple and crowd as they relive and re-experience the Grand Entrance from just moments before.
For this event, I used an Apple iMac Pro and Final Cut Pro X (FCPX) to edit the wedding Same Day Edit. This setup allows me to not worry about technology but simply focus on filming meaningful content and editing the wedding footage that we capture throughout the day to tell a story.
Same Day Edits actually present us, as wedding cinematographers, with a unique opportunity. As we are filming and soon after editing the footage, we get to reassess the shot placements and shot harmony immediately. If a particular shot does not look up to par, we redo them at that time. For example, while editing this film, I noticed that some of our opening cathedral shots were captured at different times of the day. Some were shot against the haze of the sun while others contained more contrast, with direct sunlight and a blue sky. I did not feel that the shots mixed well so the solution was simple- my videographers went out and redid some of the shots. Though this difference probably would go unnoticed by most viewers, such a small detail allows more lucid harmony between the shots. That immediate assessment of our shots is a great benefit of the Same Day Edit.
Since a wedding film allows you to relive your wedding day, it is important to us to capture the most significant and sweet details of your big day to allow those memories to live on forever. We want to make sure that every wedding film, is a film you never get tired of rewatching and reliving.
Our day began with filming the wedding details as the couple was getting ready at the Hyatt Regency Hotel. We wanted to include all the tiniest details that the couple incorporated on their big day. The bride's dress really blew me away because it fit so perfectly with the theme of the wedding. (I know, the bride always plans that out perfectly.) Her off-white Justin Alexander designer gown added a majestic touch to the shots in the cathedral. After capturing those small details, we walked over to the cathedral for the wedding ceremony, where the couple exchanged vows, participated in a few religious traditions, and shared their first kiss as a husband and wife. We spent some time afterward at the California State Capitol Park for a wedding photoshoot with the bride and groom. The fun-filled reception then followed back at the Hyatt hotel, with the couple making their Grand Entrance (which involved some serious dance moves by the groom), danced their first dance and the guests enjoyed the rest of the program, which also involved a lot of fun dancing.
Enjoy this Same Day Edit from Benny and Joanna's Wedding in the Cathedral of the Blessed Sacrament.
UPDATED 1/14/2019
We've finished editing Benny and Joanna's Wedding Film. Their wedding films includes more from their wedding and has a more complete story of their wedding day.
I wanted this wedding film to start with one of the most important aspect to the bride and groom — the cathedral. I loved the priest chanting the blessing during the ceremony and I believe it fits so perfectly as the beginnings to their wedding film (totally made it look like a Hollywood film I think). Additionally, I loved the echo throughout the cathedral whenever someone spoke, so I wanted to use the blessing in the begging without any music as well. What do you think of this cinematic wedding film?
Enjoy the wedding film from Benny and Joanna's wedding in the Cathedral of the Blessed Sacrament and Hyatt Regency Sacramento.
We are a Northern California Wedding Cinematography company that creates beautiful, emotional and romantic Cinematic Films that tell your wedding story.